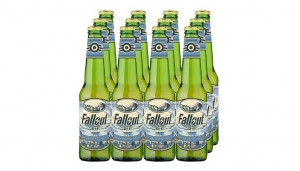 A collaboration between Bethesda Softworks the publisher of the Fallout Series, Amazon, and Carlsberg created 'Fallout beer'. As we are all super excited with Fallout 4 that came out and big fans of the Danish Carlsberg beer brand, why not combine the two and add a little extra fun to the fun we're already having? Unfortunately quite some fans were disappointed. Carlsberg did not change their blend at all for this beer, they simply changed the packaging. This beer is only be available in the U.K.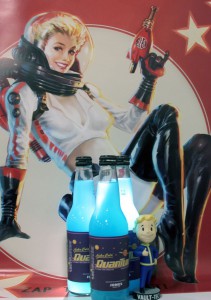 That's not the only company Bethesda Softwork has teamed up with, together with Jones Soda 'Nuka Cola Quantum' got created. Which is sadly also a simple package change for the existing Jones Soda Berry Lemonade. Available at Target.
Even though it saddens me that neither Carlsberg or Jones Soda changed anything about their drinks, I think it is generally a good idea to add some extra promotion to your video game by creating the drinks.
Too late for buying this soda? Rosanna Pansino created her own Fallout 4 Nuka Cola tutorial. This might come in handy to surprise your friends at a party.
After drinking it, don't forget to save the bottle caps, you never know what might happen!
Pip-boy is now available in phone App edition. The Application is created by Vault-Tec and RobCo Industries. It is completely free of cost and allows you to check your inventory, radio, map, statistics and play your holotape games.  It has a high rating and has been bringing a lot of pleasure to the Fallout fans, but not exactly in the way you'd think.
A lot of evil brothers and sisters download it on their phone in order to troll their siblings, or simply, troll their friends or room mates. They will link it on their own mobile phone to the game of their target. Making them drop their weapons in combat, turning the radio off and on, … You get the idea.
The game didn't receive the best reviews either. A lot of people are complaining that it turned into a basic open world shooter game, that Bethesda Softworks did an awful job on the RPG part. The game is supposable laggy and still contains quite some bugs and glitches. To left handed people this game isn't suitable, you are not able to change the keyboard options to your number pad nor a separate keyboard pad and are pushed into using the arrow keys.
The good review include that the game is well balanced for combat, the character appearance is great and it contains an interesting and emotional main storyline. My personal favourite review came from Johnson aka E. Malcom from the US with 4 hours gameplay, who claimed "The game is like sex, except for the part that I actually have this game.".
Did you buy these drinks? Are you disappointed that they only changed the packaging? Did you buy Fallout 4? Let me know in the comment section bellow! Don't forget to share this post with your friends and family.