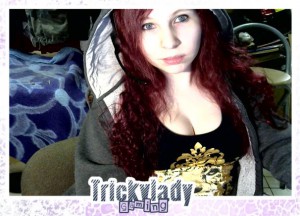 Hi! My name is Trickylady. I started out with TrickyNikki for the rhyme on World Of Warcraft, but making my alts, 'Trickyshe', 'Trickyme', 'Trickyshadow', 'Trickylove', 'Trickyheart' and 'Trickylady', Trickylady became my main, thus my ingame name. But you can call me Ivy or Evi (pronounced A.V.).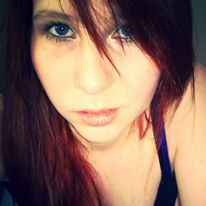 I'm 26 years old (4 September 1989) from Leuven, Belgium. You know, waffles, chocolates, french fries, … Leuven contains the biggest line of bars in the world and is a safe and nice place for going out and enjoying yourself. I'm only 1m60 or 5.2 ft and 48 kg or 105 lbs. I'm naturally a Blonde and not a Red Head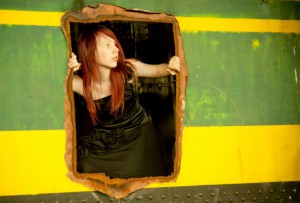 Me, however am mostly inside the house. I have a bad case of IBS, Anxiety and get depressions and panic attacks A LOT. I spend my days gaming and doing graphic design. I stream everything on Twitch.
I have no job. I have 4 Diploma's: Multimedia Operator [Contains Photography, Creating Movies, Acting, Drawing, 3D Design], Webdesign [Contains: HTML, CSS, Graphic Design], Web Developer [Contains PHP, Javascript, SQL] and Office Management. I love Learning new things and you could definitely say I'm made for the internet!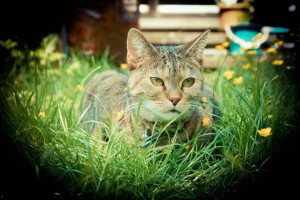 I have 2 cats and a rabbit that are my closest buddies in the house and will often pop up on my webcam.The all enjoy playing an having naps on what I'd like to call 'my' bed but is apparently a shared sleeping spot.
My striped cat is called 'Pruts', she's 14 years old, unfortunately she has cancer and I'd like to wish she'll live for many more years, but I highly doubt that will be the case. She's the daughter of a street cat.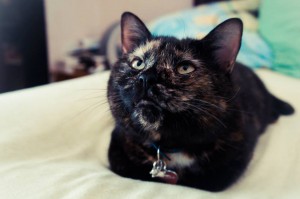 My second cat is called 'Mokka' (Mocha like the coffee). She got adopted from Noodasiel Lommel when Pruts' mom died to keep Pruts company. She's very sweet and cuddly but won't show up on cam much since she can't jump decently, she has Rheumatoid Arthritis. She's 2 years old, is a turtle cat, who's sometimes a little clumsy.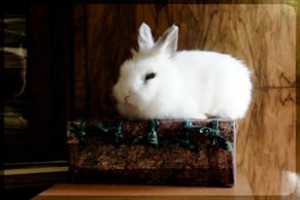 My rabbit is 3 years old now his name is 'Spikey'. A friend gave him to me after his friend couldn't manage to find him a forever home because of his so called 'behaviour problems' I haven't noticed anything of yet. He was planned to go to a family but they didn't want to put him in their garden because he'd simply escape. I didn't think Spikey should deserved to get cold in the garden, so I handed him a litter box next to my computer and he can run around the house freely. He's also allowed to go outside in the garden, but I use a leash for that.
You might also meet my neighbour's black cat 'Musti' on webcam cause she likes to sneak in and take naps on my bed or behind me on the box as well.
I stream in the kitchen and I must admit my computer couldn't be placed any closer to the toilet, microwave and any other thing I need to survive. I still live with my parents. We live in a small house that looks sort of like a squat, but I can assure you, I have an internet connection, electricity, gas and water. It does get a little cold inhere from time to time, though.